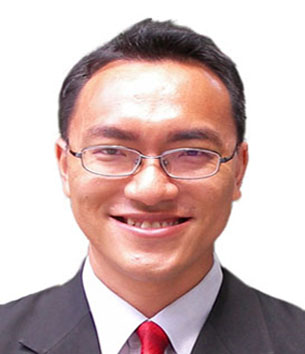 c.j. Ng 黄常捷
c.j. is the world-class leadership and experiential learning consultant who have helped international companies achieve quantum improvements in business performance in China and beyond. So far, c.j. Is the 1st and ONLY China-based leadership and experiential learning expert to have been invited to speak at the American Society for Training & Development (ASTD) International Convention. c.j. has helped:
Leading companies such as Schneider Electric, ABB and Delphi Packard etc. to improve their leadership, teamwork and decision-making capabilities.;

Global pharmaceutical and medical devices companies such as Bristol-Myers Squibb, Novartis and Draeger to improve their technical managers' leadership and communication abilities so as to excite their people to exceptional performance;

World-wide leaders in the construction market such as Philips Lighting, Saint-Gobain, Ingersoll Rand to develop competencies in their sales force so as to achieve quantum leaps in their sales results;

International chemical conglomerates such as Evonik, Linde, and Air Products to develop leadership and sales competencies within their teams
Prior to being a consultant, c.j. was Asia Marketing Manager for a Fortune 500 logistics company, as well as Corporate Training Director for Ringier AG, Switzerland's largest media group. His diverse experience in leading people in different functional roles from sales and marketing to human resources to senior management, as well in different corporate cultures allows him to provide otherwise hidden insights to his clients.
In the mean time, many other prominent companies have also engaged c.j. for help, including Juniper Networks, TNT, Texas Instruments, Dell, NEC, Epson, BMW, Infineon Technologies, Seagate, AMD, LG, China Telecom, Johnson & Johnson, GSK, Roche, IBM, PwC, Unilever, Wacker, Air Liquide, Ingersoll Rand, Philips Lighting, Freudenberg, Carrier, Saint Gobain, Ardex, L'Oreal, Zegna, Swarovski, Yum!, Herbalife, Sinotrans, Heraeus Kulzer, Invitrogen, American Express, Kantar Group, Ping An Insurance, Axa Life, Bank International Ningbo, InterContinental Hotels Group, Sofitel China, and many more., and many more.
c.j. is a bilingual facilitator and consultant in English and Mandarin, and has conducted Mandarin training, coaching and consulting projects for audiences in Singapore, Malaysia, Hong Kong and the People's Republic of China. He is a Founding Member of Professional Speakers' Association of China, which is affiliated with the Global Speakers Federation (GSF).
c.j. has a 2nd Upper Honours in Management from the University of London, and a Post Graduate Diploma in Computing from De Montfort University. He is also the Master Trainer for Leadership IQ in Asia and an accredited Belbin Team Role Facilitator.
c.j.是美国培训与发展协会(ASTD)2009年国际大会的特邀演讲嘉宾,也是ASTD国际大会有史以来唯一受邀演讲的结合销售、领导力及体验式培训于一身的亚洲咨询师。他是一位值得您信赖的销售领域的咨询顾问,曾帮助许多跨国企业获得了在中国及其他区域销售业绩方面的显著突破。 迄今为止,c.j.已帮助:
全球企业佼佼者如 施耐德、ABB 及 德尔福•派克 提升其领导力及各项沟通技能,以提高团队的作战能力

世界领先的制药公司如 诺华、德尔格 及 施贵宝 的各层经理如何与他们的团队及同事引起共鸣、激励队员以提升绩效。

全球建材行业佼佼者如 飞利浦照明、圣戈班、英格索兰 的销售团队提升销售技能,以创造非凡业绩
在这之前,c.j.是一家500强物流公司的亚洲区市场经理,及瑞士最大的媒体集团的大中华培训总监。他尤其为后者搭建了一套提高员工素质的培训体系,从而打造一个着重以科学方式达到高绩效的企业文化。
与此同时,许多知名跨国公司如:Juniper 网络、IBM、AMD、普华永道、强生医疗、罗氏制药、葛兰素、瓦克化工、法国液化空气、开利、TNT、德州仪器、戴尔、NEC、爱普森、英飞凌科技、LG、中国电信、欧莱雅、杰尼亚、施华洛世奇、百胜餐饮、中国外运集团、贺利士、康宝莱、美国运通信用卡、平安保险、安盛人寿、宁波国际银行、洲际酒店集团、索菲特中国 等也颇受益于 c.j.的经验和知识。。
c.j.是Marcus Evans、新加坡展览服务、新加坡管理学院的常邀演讲嘉宾,他是一位精通中英的双语培训师,以中文为新加坡、马来西亚、和中国的众多听众进行了诸多培训。他同时也是国际讲师协会中国分会的创会会员。
c.j.曾在新加坡管理学院、新加坡市场学院的会员杂志、以及《海峡时报》的刊物上发表了系列文章。c.j.拥有英国伦敦大学管理荣誉学位和De Montfort大学的计算机研究生学位证书。与此同时,他也是 Leadership IQ 在亚洲的首席培训师,及 贝尔宾 团队角色 授证催化师。
"c.j. Ng is an excellent sales trainer. He serves you outstanding expertise seasoned with a surprising knowledge about your industry and company, that adds up to a tailor-made menu for your specific needs and requirements. He is able to spot your short-comings and work with you to eliminate them. No matter whether you work with him professionally or just have a conversation over a cup of coffee, you have a guarantee to learn something for your career and have a good time on top of that!"
Roy Schoettle, Regional Business Manager, Asia, Flint Group
"Rarely have I come across someone with CJ's talent for rapidly assimilating complex ideas and representing them so that others could understand and make use of them. I have no doubt he will make an outstanding contribution to any venture or project he chooses to work on."
Clive Miller, Managing Partner, www.salessense.co.uk
"Over the past year, I have worked very closely with CJ on international marketing, public relations and organizational integration tasks for our organization in Asia and specifically China. I have witnessed CJ's strong ability to think and operate strategically but also to implement projects and drive results. CJ is successful in obtaining the appropriate buy in by using his unbeatable ambition, enthusiasm, strong business acumen and his sharp sense for practical solutions. CJ solves problems and does not waste time with pointing out obstacles; he focuses on results. CJ continues to prove himself as one of the most dependable and reliable business partners with whom I ever worked. It is a pleasure to work alongside CJ."

Marco Conradi, Marketing Manager (Global), Meridian IQ, a YRC Worldwide Company

"CJ has a great network and is an excellent marketeer. We've worked together in Singapore, and since his move to China I have recommended to many of my colleagues to connect with him - always with positive results. If you want to do business in China, you should get to know CJ."
Roger Hamilton, Founder, XL Events
"CJ come across to me as a down to earth and creatively practical consultant. He is truly an open person who wholeheartedly shares what he has in mind - he cares about your profitability. And that's a quality that's fast disappearing in today's business professional. Above all, CJ dedicate himself to your business bottom line, practically, innovatively and affordably."
Barney Wee, Managing Partner, Minds Transformations
"… really understands the Chinese perspectives, and was able to relate to us…"
China Telecom
"… able to cater to participants' needs; very diligent; listen to participants and actively provide feedback; very personable…"
Metro Education, China
"… I have learnt a lot, despite being a practitioner in sales and marketing for 20 years! …"
Director Regional Sales and Marketing South East Asia, Bosch, Malaysia
"… I'm able to clearly define what my unique selling propositions are, and how I can use each of them to reach out to different customer segments effectively…"
Walter Quek, Adjunct MBA Professor, National University of Singapore
"… wonderful melting pot of the best marketing ideas from the marketing managers from different industries…"
American Express Corporate Cards, Singapore.
"… c.j.is not only a good trainer, he's also an excellent consultant…"
Unite Wisdom Consulting, China

"… Thanks for your role-play and suggestions on how we can do better. It sure beats a lot of other training I have attended…"
Ivy Wang, Account Executive, City Weekend, China
"… Can't you see that my sales have increased after you taught me? …"
Shelley Xie, Tianjin Representative, Ringier Trade Publishing
"…拜昂投资第一次和淘课网联系时,希望淘课网能提供一次销售技巧方面的培训。几天后,由于客户的培训时间有所变动,客户所选的讲师这个时间段又被安排了其它培训项目,而客户因为已经下发了培训通知,时间上也不能有所调整。为了保证客户的培训能按预定的时间进行,淘课网在三天的时间内选择了黄常捷老师,并且最终获得了93.75%的高满意率!!"

"… 讲师非常了解国内销售情况,并能够给于适当的见解…"
中国电信销售课程评语总结
"… 能够根据学生现场的需求灵活调整课程,非常非常认真/用心的listen to students并做出回馈,授课方式非常有亲和力…"
美都教育
"… 在培训时学员参与很多,能有效地引导学员的思路,很好! …"
季冬来, 前马士基 物流公司区域人力资源经理兼中国总部培训发展经理
"… c.j. 让我认清我的核心、独特卖点,然后如何将之发扬光大。非常好!…"
郭浩水,前新加坡国立大学MBA教授,现中山大学客座教授
"… 黄老师对营销、销售方面有深层了解。我非常欣赏他举的例子…"
Joanna A., 新加坡美国运通信用卡营销主任
"… 很高兴能够请到你这样的讲师,well done。你在表达和互动,包括时间控制上都做的很好。…"
管先生,上海终身领导艺术学院营销经理
"… c.j.老师带给我一系列实用、先进、有效的启发。他不单是一位好的培训师,更是一位优秀的咨询师…"
段然, 国内知名营销咨询公司营销咨询师
"… 很感谢昨天陪我们大家做role-play并给我们提了很好的建议。这样的role-play对于销售有很大帮助,比单纯的讲授更有针对性,更生动,让销售更好的从客户角度思考提升自己的销售技巧,弥补自己的不足。…"
"… 你没发现我是在培训后陆续签的合同吗?…"